About us
A culinary delight in the oldest, historic part of Wrocław. – Sounds good, right? We invite you to Craft Restaurant, where we will take you on a culinary journey through the Polish flavors. We believe that cuisine is not only about the end result, it is mainly about the products, which are carefully selected for us by our trusted local suppliers. Then we add to it the aromatic preparation, culinary knowledge, experience and talent. Thanks to the synergy between these elements we produce valuable and representative dishes. We cook in an innovative way, using modern, craftsmanship techniques. We experiment freely, but respect the traditional approach. And this is what makes us achieve perfectly well-balanced flavors. Thanks to our love for cooking we create dishes that evoke unique emotions and pleasant memories. We will do our best to make you associate their taste with our restaurant, Ostrów Tumski and simply with Wrocław.
Restaurant in the center of Wrocław
Our Craft menu is a composition of Polish dishes, for which we use local ingredients and culinary craftsmanship. These are specially selected suggestions, among which you will find fish, meat and vegetarian dishes. Local suppliers, with whom we share our sympathy for what is tasty, provide us with high quality fresh products. This is where our traditional cooking begins, in a nutshell – at Craft Restaurant you will feel special, because we are the ones who inspire, create and serve innovative and delicious Polish cuisine in Wroclaw.
Restaurant on the market square in Wroclaw
While staying at the Craft Restaurant, you will first and foremost feel a sense of unprecedented comfort. Large windows and raw decor based on natural oak, black steel and leather create an industrial, casual atmosphere. It's also a tasteful place where craft themes will allow anyone to enjoy a satisfying meal with family, as well as during formal business meetings. The open kitchen is an undeniable asset of our restaurant. You can watch the chefs at work and the bartenders masterfully preparing original cocktails. This image will only reinforce your conviction that you made the right choice by visiting us. Treat yourself to a delicious meal and be sure to write down the address of our restaurant: Plac Katedralny 8. This is a must-see place on the map of Wrocław for anyone who would like to taste, appreciate or learn about Polish cuisine.
Polish cuisine in the center of Wroclaw
Our restaurant is located in the The Bridge Hotel, very close to the Wrocław Market Square. Here at the Cathedral Square you will find not only inspiring architecture, but also wonderful flavors of Polish cuisine. Our chef focuses on unique, local products. Our menu is tailored to our guests' expectations, that is why in Craft restaurant in Wroclaw you can find seasonal menus as well as those prepared for special occasions, like holidays or Valentine's Day.
If you are looking for the flavors of Polish cuisine in Wroclaw, here you will find freshly baked, homemade bread and dishes based on Polish seasonal products – fruits and vegetables, nuts, meat and dairy. All this from reliable suppliers from the region.
Perfect place for a date in Wroclaw
The oldest and most charming part of Wrocław – Ostrów Tumski, is a place where you will find a lamplighter who lights the local lanterns and Craft restaurant that warms you up with its atmosphere and wonderful flavours. If you are looking for a perfect place for a date or a romantic dinner in Wroclaw, take your beloved one to the Craft restaurant.
Specially prepared by our chef, seasonal and occasional menu, reflecting the spirit of our craft philosophy, the unique atmosphere of the Wroclaw market square and warm interiors will charm your beloved one.
In addition to excellent cuisine, we also provide original suggestions for cocktails in our menu. Take a moment to relax and recharge your batteries in Craft restaurant on Ostrów Tumski with a glass of wine from our very extensive wine list.
Market Square in Wroclaw – beautiful landmarks and excellent Polish cuisine
Are you planning to explore Wroclaw? Do you want to see the Market Square and its monuments? Great idea! In the area you'll find the tiny St. Idzi's Church, believed to be the oldest surviving building in Wroclaw, the 16th century Kluskova Gate connected to the Chapter House, the 13th century Archbishop's Palace and the beautiful Gothic Cathedral of St. John the Baptist, rebuilt after World War II.
As the oldest district of Wroclaw, Ostrów Tumski is full of wonderful monuments and places ideal for walks, such as the Odra river bank, nearby islands and atmospheric cobbled streets. After a journey through the most beautiful places in the capital of Lower Silesia, we invite you on a culinary journey to Craft restaurant. Our respect for tradition, the combination of craft techniques with innovation, courage, experience and culinary knowledge are reflected in every dish that leaves our kitchen. Love for cuisine makes each dish charming with its aroma and evokes unique emotions. Flavors that can be experienced in our restaurant will always be associated with Wrocław and Ostrów Tumski.
Visit us and try one of the menus prepared according to the season or special occasions such as holidays, Valentine's Day and thematic festivals (e.g. goose feast). Charming, unique and tasty – it will be your journey around Wrocław crowned with a visit to Craft restaurant.
Only trusted local suppliers
Craft Restaurant in Wroclaw is not only a charming space in the city center, located right next to the Market Square. It is most importantly excellent dishes prepared from the best local ingredients. In the meals served by our chef you will find all the best that Lower Silesia has to offer. Our bread comes from our own bakery and its smell fills the walls of our restaurant every morning. Its secret is flour from the Skokowa Mill and malt from the Stu Mostów Brewery. Every morning we greet you with new energy, the smell and taste of fresh coffee from the Wrocław monko COFFEE roastery. The best products come to us from Lower Silesia, including artisanal apple juice from the Wałbrzych Apple Reserve and excellent dairy products from the Wrocław Ślubowski Cheese Factory. In the nearby area, just outside Szczyrk in Silesia, we have poultry of the highest quality which comes to us from Lipowe Wzgórza – a farm with 400 years of tradition.
Mackerel
buttermilk
juniper
asparagus
Asparagus
tahini
egg yolk
pepitas
Piglet
loin
rhubarb
young cabbage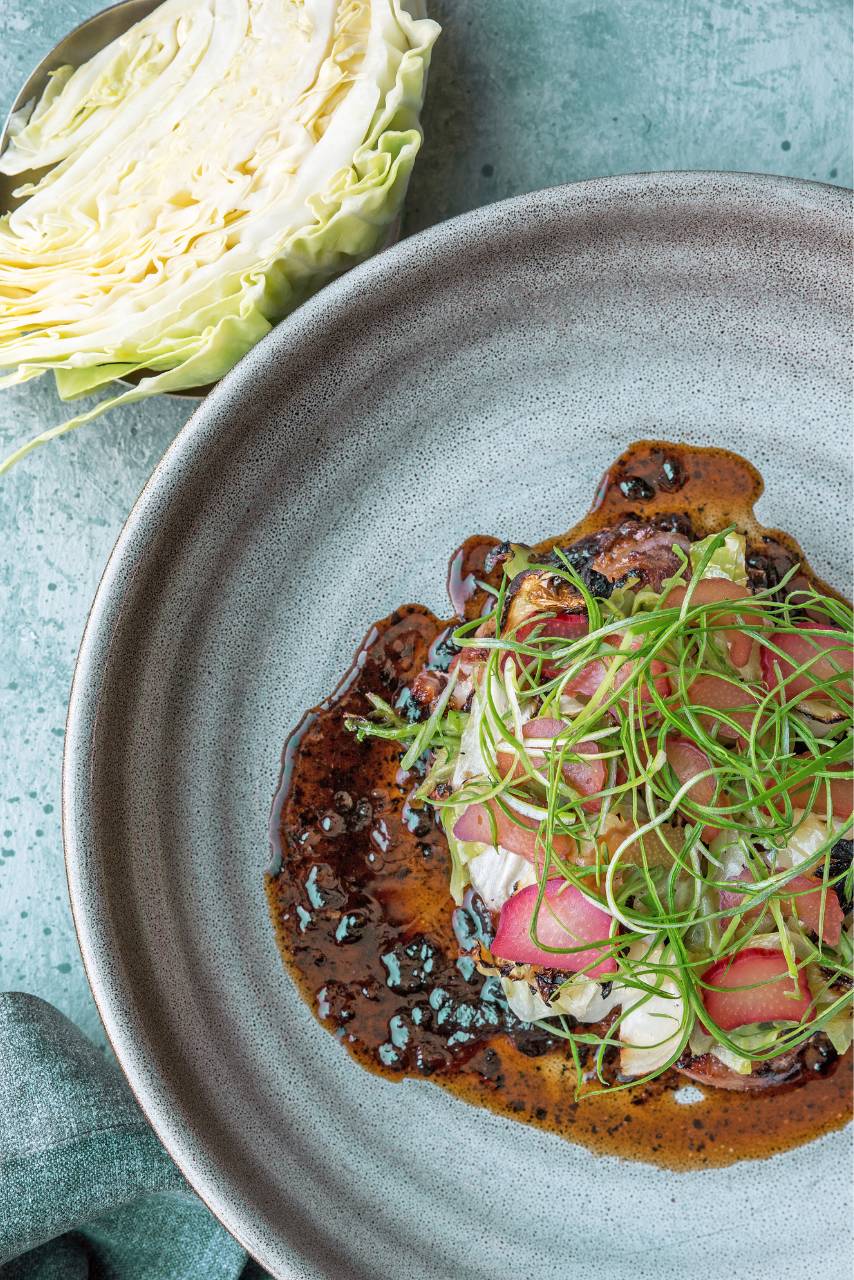 Rhubarb
zabaglione
buttermilk
Basil
Beefeater
Basil
Mustard Seeds
Italicus
Lemon
Egg White
Rhubarb
Jameson
Rhubarb
Rooibos
Nettle
Lemon
Hop
Rooster Rojo
Hop
Lime
Chartreuse
Egg White
Celery
Beefeater
Pickles
Celery
Tomato
Sriracha